Obama Major 'Cager of Immigrant Kids'

Alexandria Ocasio-Cortez owes the good people of America a huge public apology.
It was the Drama Queen, known as AOC, who openly accused President Donald Trump of "caging" immigrant children—when it was her hero ex-President Barack Obama who caged the kids all the while.
Shedding crocodile tears
AOC not only fell hook line and sinker for the progressive propaganda that the Trump administration held the record for caging immigrant children at the US border, but used it for her own self aggrandizement.
Shedding crocodile tears when she showed up at the southern border, the New York congressional freshman has referred to ICE detention facilities as "concentration camps". link
The faux outrage of the Bernie Sanders discovered New York Rep.  went viral over the Internet, where it can still be found to this day.
Alexandria Ocasio-Cortez  ✔@AOC
I'll never forget this, because it was the moment I saw with my own eyes that the America I love was becoming a nation that steals refugee children from their parents,& caged them. More kids died after this. To date, no one has been held accountable.We need to save these kids.

https://

twitter.com/i_p_a_1/status

/1143361683710193665 

…

Before @AOC hit the national stage & was just a fairly unknown House candidate frm NYC,she took time awy frm her campaign & came dwn to #Tornillo to protest the #tentcity housing migrant children.I made these previously unpublished fotos a yr ago today. #elpaso #aoc #onassignment
No screaming headlines now that the caging claims against the Trump administration have been debunked. 

At the time of this writing only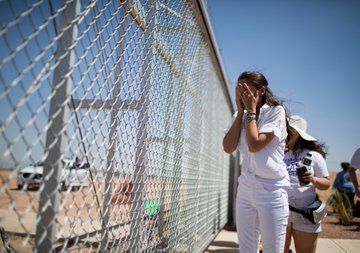 Fox News ran the story that it was Obama and not Trump who holds the record on caged kids on its front page:
"Several media organizations were forced to make retractions Tuesday after falsely attributing a staggering Obama-era migrant child-detention statistic to President Trump. (Fox News, Nov. 19, 2019)
"On Monday, Manfred Nowak, an expert from the U.N. Global Study on Children Deprived of Liberty, claimed that 100,000 migrant children were detained by the Trump administration and indicated that it was the "world's highest rate" of detained children. The following day, however, he acknowledged that the cited number actually was from 2015—under President Obama.
"A separate report last week from The Associated Press and the PBS series "Frontline" found 69,550 migrant children have been held in U.S. government custody in the last year.
"Nowak's admission prompted several media outlets to withdraw their previously reported stories.
A Nov. 18 story headlined 'U.S. has world's highest rate of children in detention -U.N. study' is withdrawn. The United Nations issued a statement on Nov. 19 saying the number was not current but was for the year 2015. No replacement story will be issued," Reuters stated.
"National Public Radio wrote, "We have temporarily withdrawn this story because the study's author has acknowledged a significant error in the data. We will post a revised article with more complete information as soon as possible."
"Agence France-Presse (AFP), which has over 1.7 million Twitter followers, issued its own correction.
"The Associated Press offered a more detailed explanation. "The Associated Press has withdrawn its story about a claim about the number of children being held in migration-related detention in the United States. The story quoted an independent expert working with the U.N. human rights office saying that over 100,000 children are currently being held. But that figure refers to the total number of U.S. child detentions for the year 2015, according to the U.N. refugee agency."
"Many outlets had run with The Associated Press's inaccurate report, including NBC News. Al Jazeera also issued an "update."
"Some Democrats initially seized on the inaccurate reporting, including the DNC War Room and 2020 presidential candidate Sen. Bernie Sanders, I-Vt., who have since deleted their tweets.
"This is a disgusting result of Trump's family separation policies- pushed by Stephen Miller who has cited white nationalist propaganda in promoting his views. It's also, apparently, a violation of a U.N. treaty, the Convention on the Rights of the Child," the DNC War Room initially wrote, unaware that it was slamming the Obama administration.
"Sanders offered a multiple-choice question, "What country has the world's highest rate of child detention," which had Botswana, Sri Lanka, and Mexico as alternative options.
"Under Trump, America leads the world in locking up little kids- including 100,000 children at the border. This is immoral," Sanders wrote in the now-deleted tweet.
"Donald Trump Jr. blasted the media, suggesting they were selective at what stories they retracted.
"I guess they'll only withdraw true stories that make Obama look bad rather than leaving up the truth for everyone to see? This is why no one trusts the media," Trump Jr. wrote.
"The White House did not immediately respond to Fox News' request for comment."
Meanwhile, Lie-Spreader Ocasio-Cortez, who now works for Tweet Delete King Bernie Sanders, and who raked in $1.42M in the third quarter, topping both Pelosi and Schiff, skates free in The Sordid world of Progressive Propaganda.
RSS Feed for Judi McLeod
Judi McLeod is an award-winning journalist with 30 years' experience in the print media. A former Toronto Sun columnist, she also worked for the Kingston Whig Standard. Her work has appeared on Rush Limbaugh, Newsmax.com, Drudge Report, Foxnews.com.