Canada Free Press Daily Mailout
Home| Cover| America| News-Videos| Most Recent
LIVE: London Bridge Attack, Car Plows into Crowd, Stabbing at Borough Market, Vauxhall Gunfire 
By News on the Net
Terror Attack in London—up to 5 locations hit
Supreme Court to Lift Ban on Travel Ban 
By Douglas V. Gibbs
In Trump's Travel Ban Executive Order, the laws he is executing with the order are listed.  Among them is a law that gives the President the ability to prohibit persons from entering the United States if he believes they may be a danger to the national security of this country.
CO2 EMISSION HYPOCRITES 
By Barry Shaw
The hypocrisy of those who don't believe or practice what they preach
How Did We Get Here? 
By Dr. Ileana Johnson Paugh
How did our society get where we are today? Where did this profound hatred, disrespect for authority, for the rule of law, disdain for their own country, utter laziness, entitlement, anarchy, and anti-Americanism come from, especially in the younger generations who shape the future of our country?



First Redskins, Now LSU Tigers are targets of PC Lunatics
By Jeff Crouere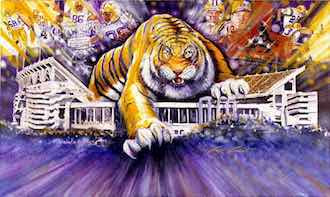 In our toxic age of political correctness, nothing is immune from liberal political attacks, even the beautiful, majestic and endangered tigers. It seems obvious that tigers should be supported since their numbers are dwindling the in the wild and their natural habitats are constantly shrinking.
Driven batty over Paris treaty rejection 
By Rolf Yungclas
President Trump goes after the Left's sacred cow of global warming by rejecting the Paris climate treaty and you would think we were suddenly under a DEFCON 1 alert of imminent nuclear war. Some even called it treason to reject the Paris Accords treaty.
Exiting the Mad Hatter's climate tea party 
By Paul Driessen
I can guess why a raven is like a writing-desk, Alice said. "Do you mean you think you can find out the answer?" said the March Hare. "Exactly so," said Alice. "Then you should say what you mean," the March Hare went on. "I do," Alice replied. "At least I mean what I say. That's the same thing, you know."
Colluding with Russians takes a back seat to the environment for getting rid of Trump 
By Judi McLeod

Just as the progressive left was coming up with a way to tax all of society for the very air that it breathes, President Donald Trump cast aspersions on the credibility of man-made climate change by pulling America out of the United Nations initiated Paris Climate Accord.